Ambika Achanta
Mindfulness Coach/Pranic Healing Practitioner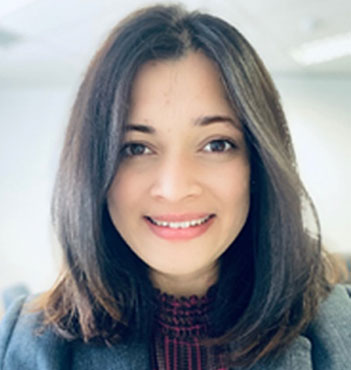 Specialty and Interests
Advanced Pranic Healing
Pranic psychotherapy
Pranic Crystal Healing
Mindfulness coach for Adults and Kids
Ambika brings 12+ years of experience in this field and offers a full-range of empirically & scientifically validated mindfulness practices, yogic techniques, and no-touch Pranic Healing applications, uniquely tailored to enhance mental, emotional, physical, and spiritual well-being. Ambika also specializes in sensing energy blocks in various energy centers, particularly emotional blocks that adversely affect physical and mental health. She starts the session by sensing the energies using energy techniques, detects energy imbalances, follows a healing protocol, and in the end provides useful strategies and recommendations that promote long-lasting positive changes and personal growth.
Ambika's goal is to empower clients through healing, counselling, and sharing self-healing techniques to improve mental and physical health.
Since 2008, Ambika has been actively conducting meditation programs and healing clinics in India, USA, UK, and Australia. Pranic Healing is a tested system of energy medicine founded by Grand Master Choa Kok Sui that utilizes prana or chi to cleanse, energize, and balance the energy system of the body. It is a no-touch- no drug healing therapy.
From psychological to physiological ailments, Ambika's experience in treating diverse patients not only advanced her healing skills but also greatly enriched her understanding of complex health conditions that are caused by a combination of genetic, environmental, and emotional factors.
What to expect in a session?
Each healing session lasts for about 60-90 minutes and at the end of each session, the overall condition of the energy body is discussed with the client, and recommendations are provided accordingly. Often healings are accompanied by teaching meditation, mindfulness exercises, and the clients are expected either to sit on a chair or lie on a bed. It was observed that clients who are committed to the recommendations, experienced positive changes not only in their health but overall well-being. Although Ambika works mainly with adult clients, she also works with children's emotional and behavioural issues, especially sensitive children.
Key ailments treated
Stress/strain/depression/tension/addiction and other psychological ailments
Migraine
Immunity and Defense system
Disorders of the eyes, ears, and throat
Skin disorders
Heart and circulatory ailments
Respiratory Ailments
Gastrointestinal Ailments
Urinary Ailments
Reproductive Ailments
Endocrine Ailments
As deeply held energetic blocks are removed you may quickly experience
More mental clarity
Inner peace and calmness
Reduced sufferings
Improved health and wellness
Academic & Professional Qualifications
MS in International Business, UK
Certified Pranic Healer
Certified Mindfulness Practitioner (Adults and Kids)
Arhatic Yogi
Services Offered
Mindfulness and Meditation Workshops
Single day event. Learn Pranic Breathing techniques, Meditation on Twin Hearts with self- Healing, forgiveness practices and much more!
Face-To-Face Consultations
Pranic Healing Consultations are conducted at three different locations. Open for bookings Tuesdays to Saturdays.
Melbourne Float House- Kilsyth
Living Without Boundaries Clinic, Eltham
Manningham Medical Centre, Templestowe
Templestowe Lower
Ringwood
Video Consultations – Skype, WhatsApp, or Messenger.
Video Pranic Healing sessions are an alternative option to face-to-face consultations. These are conducted online via Skype, WhatsApp or Messanger. The practitioner will be in one location and the client in another on your computer or mobile anywhere in the world.
Distant Healing
Distant Healing is another alternative. The Pranic Healing Practitioner can scan and heal the chakras and then intentionally direct healing energy, regardless of where you are and what time it is. This is effective for all people especially children, the elderly, and the ill.
Make an appointment for any of the healing treatments. For more information please visit www.earthmyhome.com.au/services/
Email: contact@earthmyhome.com.au
Ph: 0432-506-126